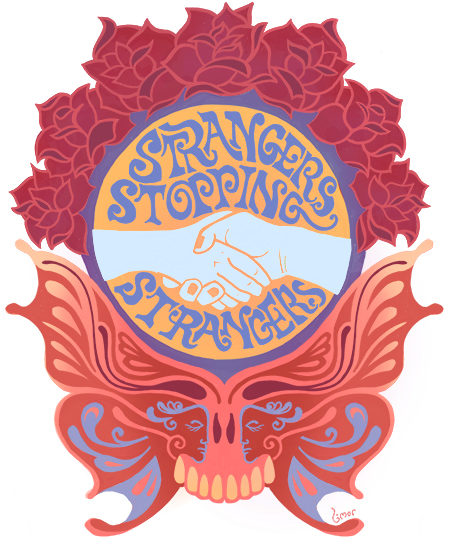 —Inspiration move us brightly…
Deadheads are a community that transcends all walks of life; where we live, what we do, and what kind of jobs we have. There is a link to one another through the music, lyrics and experiences that is special.
"Strangers Stopping Strangers… just to shake their hands" is a podcast adventure within the community to discuss the music, how it shaped us in the past and today, with connections to songs, shows, and people.
Everyone has their story that makes up their soundtrack. Looking forward to sharing experiences with friends, family, and—of course—all the former strangers I meet along the way.
Please check it out, and enjoy this journey with me…..
—Such a long long time to be gone, and a short time to be there…
Podcast #39- Conversation with Sunshine Powers
This weeks podcast I got the pleasure of hearing & sharing the stories & music from the always sparkling Sunshine (Sunny) Powers!
Sunny and I met last New Years Eve Day while I was in SF visiting Haight Street & my friend Jerylin Brandelius- who brought me to her store Love On The Haight- and admiss the craziness of the day we connected and a podcast was put out into the universe. When I got Sunny's set list it confirmed what I already knew- she is not like other girls!
Sunny takes up on her journey starting with her love for her home, the neighborhood of The Haight, in the great city of San Franciso. Her Brent test she put the new girls through on Intro Grateful Dead 101 at her store Love On The Haight – through her passion over the "down and dirty stuff like the Etta James and Jerry Garcia picks, though the ultimate mission of her days- everyday- is to spread peace- love and good will- even if it means blasting The Magnificant Santuary Band onto Haight Street street to get a passerby to look around and smile. If you live in the SF area- or are visiting SF- her store is amazing- to check it out on line you can find her at http://www.loveonhaightsf.com
Sunny does not only talk the talk- she is walking the walk. She tells us about the organization she was involved with creating and works with called Taking It To The Streets. This non profit organization empowers homeless youth to lead better lives by providing job skills-training- mentoring- safe housing and other services to support self sufficiency of the youth and young adults ages 18-35. To learn more & support please check them out at www.takingittothestreetssf.org
Such a pleasure getting to know Sunny- looking forward to adventures To come when I am "home" in CA
*** Artwork By Stealie By Stella
Thank you & enjoy-
Featured Music~
Grateful Dead- Dear Mr Fantasy- Hey Jude- Hampton Coliseum, Hampton VA, October 9, 1989
Grateful Dead With Etta James- Hard to Handle, Oakland Auditorium, Oakland CA, December 31, 1982
Legion of Mary, Leave Your Hat On, Legion Of Mary, April 9, 1975
Sarah and Jerry Wedding Day Long Black Veil, Top of the Tangent, Palo Alto CA, May 4, 1963
Jerry Garcia band  – Magnificent Sanctuary Band, Cats Under The Stars 1977′
Donny Hathaway- I Believe In Music
Podcast #39- Conversation with Sunshine Powers
Podcast: Play in new window | Download (Duration: 1:23:30 — 38.2MB) | Embed
Subscribe: iTunes | Android | RSS
Podcast (companion): Play in new window | Download (Duration: 41:15 — 50.8MB) | Embed