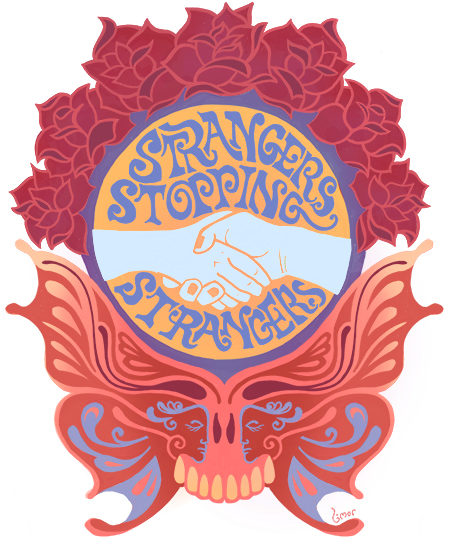 —Inspiration move us brightly…
Deadheads are a community that transcends all walks of life; where we live, what we do, and what kind of jobs we have. There is a link to one another through the music, lyrics and experiences that is special.
"Strangers Stopping Strangers… just to shake their hands" is a podcast adventure within the community to discuss the music, how it shaped us in the past and today, with connections to songs, shows, and people.
Everyone has their story that makes up their soundtrack. Looking forward to sharing experiences with friends, family, and—of course—all the former strangers I meet along the way.
Please check it out, and enjoy this journey with me…..
—Such a long long time to be gone, and a short time to be there…
Podcast #37- Conversation with Ashley Beth
This weeks podcast I got the opportunity to talk to & become friends with Ashley Beth- a fantastic woman and the singer for the band Sugar Lime Blue!
The connection to a Grateful Dead based podcast and the connection with Sugar Lime Blue reveals its self throughout our conversation, and within the music selection. One of the most important roots of Deadheads- and the people who follow Sugar Lime Blue, is community. How this podcast came to be is the ultimate expression of that sense of community- a Deadhead & Huge Sugar Lime Blue Fan, (or perhaps Sugar Lime Blue Head?) suggested we talk many, many times on Twitter- and sent an email saying how much he would enjoy this podcast- thank you to pjl1015-  I was into it,  Strangers Stopping Strangers is all about meeting new like minded people, and was thrilled when Ashley was up for it too!
While there are many things I love about this conversation, one of the coolest is Ashley's perspective as song writer- singer and a member of a band. It is not that often that you get an opportunity to have such insightful conversation- with someone so relate-able about such topics. And most of all- we had so much FUN!
The best way to find out whats happening with music and tours of Sugar Lime Blue is their website www.sugarlimeblue.com – you can also find them on YouTube ( they do a super cool Sunday shout out eachweek) and of course on Facebook- Twitter and Instagram.
Thank you & enjoy-
Featured Music~
Grateful Dead- Althea, Uptown Theater, Chicago IL, December 5, 1979
Sugar Lime Blue- Morning Dew- Dead Covers Project
Sugar Lime Blue- Flying- Studio
Grateful Dead- Cold Rain And Snow- Uptown Theater, Chicago IL, December 5,1979
Podcast #37- Conversation with Ashley Beth
Podcast: Play in new window | Download (Duration: 1:08:35 — 31.4MB) | Embed
Subscribe: iTunes | Android | RSS
Podcast (companion): Play in new window | Download (Duration: 29:16 — 13.4MB) | Embed