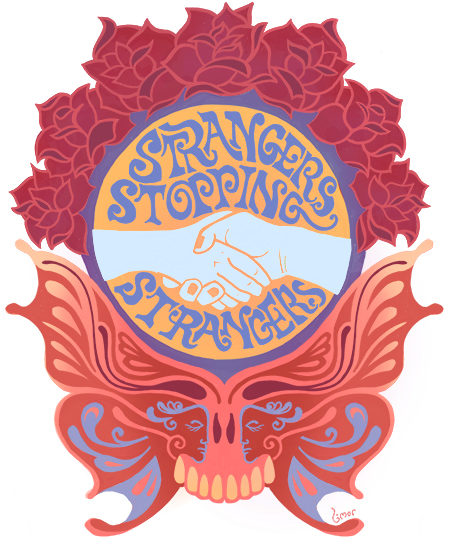 —Inspiration move us brightly…
Deadheads are a community that transcends all walks of life; where we live, what we do, and what kind of jobs we have. There is a link to one another through the music, lyrics and experiences that is special.
"Strangers Stopping Strangers… just to shake their hands" is a podcast adventure within the community to discuss the music, how it shaped us in the past and today, with connections to songs, shows, and people.
Everyone has their story that makes up their soundtrack. Looking forward to sharing experiences with friends, family, and—of course—all the former strangers I meet along the way.
Please check it out, and enjoy this journey with me…..
—Such a long long time to be gone, and a short time to be there…
Podcast #43- Conversations with Ben Robinson
This weeks podcast is a return of the fantastic series of "21 Century Deadheads"! The story on how Ben and I met was so fun- for us- I have been friends and have worked with his dad, Matt Robinson for the past 10  + years. A couple years ago he told me his son was getting really into music-and in particular the Grateful Dead- cue the slightest eye roll 🙂
It became a hot conversation topic this May when the 2017 Dead and Company tour was coming up- and he said  "oh yeah- he will be there too". I gave Matt a Strangers Stopping Strangers Magnet- and asked him to pass it along- and have Ben look me up.
The next day I got a text from Matt – saying – to my delight- that Ben knew of the podcast! A few minutes later I got a text from Connor Bradley a friend I made from a few podcasts ago saying- "hey I hear you know my friends dad" and the world just got a little bit smaller! A podcast HAD to be put on the books!
Ben and I have so much fun talking about music- The Dead- inspiration he has found- and continues to find as a musician. We were both at the Dead and Company June shows- and while we never got a live meet up- we had a lot of fun breaking down our experiences from that phenomenal weekend!!
As with many of the "21st Century Deadheads" I am getting the honor of meeting and speaking with, Ben is SO passionate about the Dead music- technically – lyrically- breaking down different eras- decades- years- and shows. This kid knows his SHIT!
More and more I feel like this wonderful and precious  Deadhead community we call our home is in good hands -Every time that wheel turns round- bound to cover just a little more ground!
Thank you & enjoy-
Featured Music~
Grateful Dead- Not Fade Away- Going Down The Road Feeling Bad- Skulls & Roses
Grateful Dead- Scarlet Begonias, Winterland, San Francisco CA, October 17, 1974
Grateful Dead- Shakedown Street, Golden Hall Community Concourse, San Diego CA, November 24, 1979
Dead And Company-  Dancing in the Streets, Fenway Park, Boston MA,  June 18, 2017
Dead and Company – Darkstar- Fenway Park, Boston MA, June 19, 2017
Podcast #43- Conversations with Ben Robinson
Podcast: Play in new window | Download (Duration: 1:26:32 — 99.0MB) | Embed
Subscribe: iTunes | Android | RSS
Podcast (companion): Play in new window | Download (Duration: 53:31 — 61.4MB) | Embed