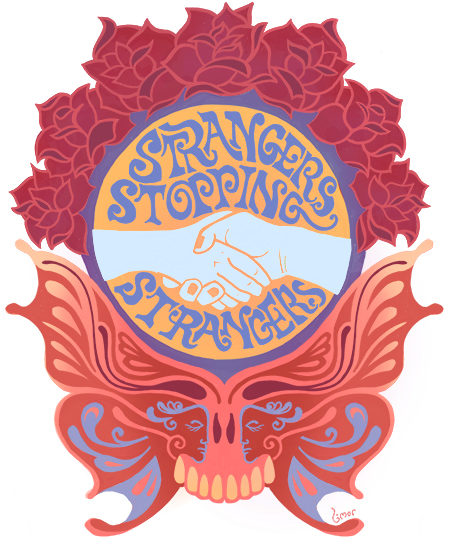 —Inspiration move us brightly…
Deadheads are a community that transcends all walks of life; where we live, what we do, and what kind of jobs we have. There is a link to one another through the music, lyrics and experiences that is special.
"Strangers Stopping Strangers… just to shake their hands" is a podcast adventure within the community to discuss the music, how it shaped us in the past and today, with connections to songs, shows, and people.
Everyone has their story that makes up their soundtrack. Looking forward to sharing experiences with friends, family, and—of course—all the former strangers I meet along the way.
Please check it out, and enjoy this journey with me…..
—Such a long long time to be gone, and a short time to be there…
Podcast #54- Conversation with Charlie Miller Part 1
This weeks podcast is with Charlie Miller – one of the most prolific tapers in The Grateful Dead archives!
Charlie has uploaded about 3000 shows up onto archive.org website, the source of happiness for many Deadheads- as well as the source for the majority of the music I upload for this podcast. The availability of music from 30 years of music for everyone to enjoy is something we are all very grateful for!
Charlie and I met close to 30 years ago in 1989 in the Bay Area. through my high school deadhead friend Katie Brown ( still one of my closest friend) When his name came up in podcast #50- a friend asked if Charlie would be on one day…..I reached out to him on Facebook and reconnected all these years later. Charlie was extremely gracious about anything I may need – music – and I said I would love to share his music picks and stories one day. He was game- and here we are!
When I asked Charlie for his music selections , 3-5 songs, he came back with 7 songs- which became 8- and then maybe 9. In the grand scheme of all the music that has passed through his hands and ears- who was I to limit his selection? I also had a feeling that he would be picking the songs for their entirety – and editing the songs down wouldn't be conducive to this podcast- these 9 songs were picked for a reason. With 9 full length songs and our conversation- I was looking at a 2 1/2 hour podcast….I then decided to mix things up, and do the first 2 part podcast! We end with Drums from New Years Eve 1990- a memorable show we were at together with Katie- and return with Space for Part 2.
I had so much fun catching up and  hearing Charlie's stories that go back to 1979- lots of adventures- and so interesting to hear why these 9 songs were selected.
As always- thank you for stopping by & enjoy!
Featured Music~
The Grateful Dead- Shakedown Street,Oakland Auditorium Arena, Oakland CA, December 31, 1981
The Grateful Dead- Feels Like A Stranger, Merriweather Post Pavilion, Columbia MD, June 26, 1984
The Grateful Dead-Althea, Morgantown Civic Center, Morgantown WV, April 10, 1983
The Grateful Dead- Good Lovin', Fillmore East, New York, NY September 18, 1970
The Grateful Dead- Drums, Oakland Coliseum, Oakland CA, December 31, 1990
Podcast #54- Conversation With Charlie Miller Part 1
Podcast: Play in new window | Download (Duration: 1:21:25 — 93.2MB) | Embed