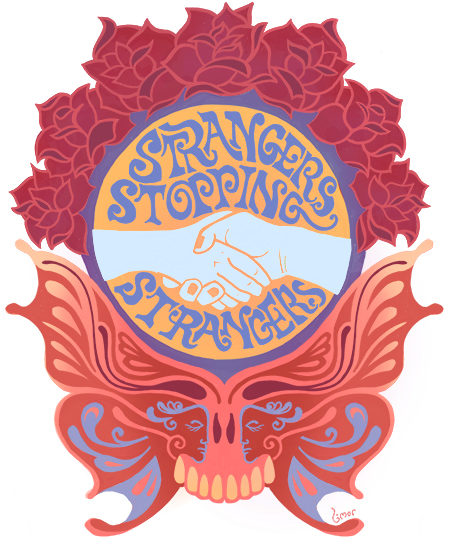 —Inspiration move us brightly…
Deadheads are a community that transcends all walks of life; where we live, what we do, and what kind of jobs we have. There is a link to one another through the music, lyrics and experiences that is special.
"Strangers Stopping Strangers… just to shake their hands" is a podcast adventure within the community to discuss the music, how it shaped us in the past and today, with connections to songs, shows, and people.
Everyone has their story that makes up their soundtrack. Looking forward to sharing experiences with friends, family, and—of course—all the former strangers I meet along the way.
Please check it out, and enjoy this journey with me…..
—Such a long long time to be gone, and a short time to be there…
Podcast #30 – Drew Moss~ Bound To Cover Just A Little More Ground
This weeks podcast I get to talk to Drew Moss, an all around fantastic & gracious man I have been fortunate to get to know.
Drew and I met through some mutual friends in the Deadhead community  Wall Street Dead aHead, he is the third friend from this amazing group to be on the podcast, and I am sure will be far from the last!
Drew is a true renaissance man, with all of his roads leading back to philosophies he has absorbed from the music and lyrics of The Grateful Dead.
We talk about how this way of looking at life is instrumental with all the hats that Drew wears  throughout his story. Working with students and preparing them for college ~ pursuing his passion project, a documentary on post Jerry Garcia/ Grateful Dead music and bands ~ making new friends to jam with ~his outlook on future generations of Deadheads keeping the wheel turning , bound to cover just a little more ground!
Throughout the podcast as always a fantastic music selection is played. Some of these shows were pick from his live experiences, and some he picked because they are the songs and shows that inspire Drew on a daily basis.
To learn more about Drew- check out his website at www.drewmoss.com 
Thank you for tuning in ~ and enjoy!
Grateful Dead- Cumberland Blues- Europe 72-The  Lyceum, London England, May 26, 1972/
Grateful Dead- RFK Stadium, Philadelphia PA, Hell in a Bucket July 7, 1989
Grateful Dead- Deal, Barton Hall, Cornell University, Ithaca NY May 8, 1977
Grateful Dead- Truckin' – Alligator Alley Gymnasium, University of Florida, Gainesville FL, November 29, 1980
Grateful Dead Not Fade Away- Rich Stadium, Orchard Park NY July 4, 1989
Podcast #30- Conversation with Drew Moss
Podcast: Play in new window | Download (Duration: 1:22:50 — 14.2MB) | Embed
Subscribe: iTunes | Android | RSS
Podcast (companion): Play in new window | Download (Duration: 35:41 — 47.0MB) | Embed