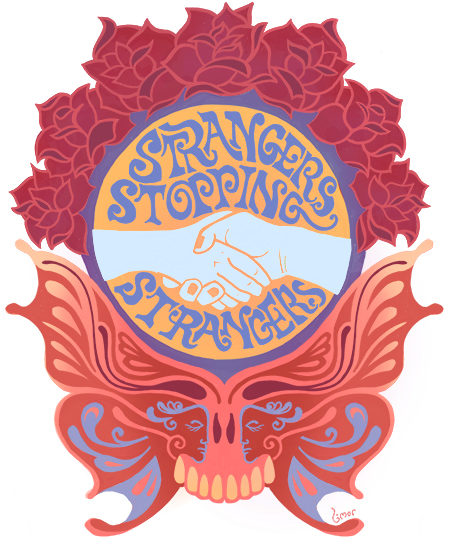 —Inspiration move us brightly…
Deadheads are a community that transcends all walks of life; where we live, what we do, and what kind of jobs we have. There is a link to one another through the music, lyrics and experiences that is special.
"Strangers Stopping Strangers… just to shake their hands" is a podcast adventure within the community to discuss the music, how it shaped us in the past and today, with connections to songs, shows, and people.
Everyone has their story that makes up their soundtrack. Looking forward to sharing experiences with friends, family, and—of course—all the former strangers I meet along the way.
Please check it out, and enjoy this journey with me…..
—Such a long long time to be gone, and a short time to be there…
Podcast #53- Conversation with Red Roses Green Gold
This weeks podcast is conversations – from Red Roses, Green Gold Play  – currently showing at Minetta Theater, on Minetta Lane, New York, New York- through January 7th.
The podcast is in three segments of conversation and music selections. The first is with Gigi Pritzker, a producer for Red Roses, Green Gold. Gigi and her partner in producing Ted Rawlins came upon a scrip based on a book written by Michael Norman Mann about 4 years ago, with musical accompaniment by  Jerry Garcia and Robert Hunter. They took it on- Jeff Chimenti joined as musical supervisor- and opened in New York Sunday October 29!
Gigi and I talk about how this play is wonderful for those who have an affinity for the music and the culture of the Deadhead Community, and how it is exciting to have the opportunity to share with theater goers who may come away with a totally different perspective for the Grateful Dead, and the colorful stories that Hunter/Garcia so beautifully created for our imaginations.
Natalie Storrs is my next conversation. She is an actor in the play- and while she was not familiar with the Dead music before, she wanted to come on to the podcast to share about her journey getting on board. We get to talk about Jeff and how his enthusiastic and unbelievably voracious energy is 100% authentic to the man she got to work with! I love getting to watch Jeff play with that HUGE smile on his face- so this was a really fun topic- he really is enjoying the ride!
My last conversation is with Maggie Hollinbeck- and actor in the play. Maggie chose to come on to the podcast from the perspective of someone who did come into the play with experiences of her own with the Grateful Dead and the music. Maggie share with us a story about a show she saw in high school- her appreciation of the incredibly complex music- and how special the vibes are when the energy is shared between the artists and the fans……and how the cast experiences this phenomenon at times and come off the stage "blissed out " from all the amazing energy that is shared!
When Red Roses, Green Gold reached out to me via a magnet they came across- I was excited! I have never done any kind of sponsorship of collaboration on Strangers Stopping Strangers podcast, and while I was thrilled to spread the word &  wanted it to  authentic to the podcast, which is stories and music picks from the community, We decided to stick with what I do- stories and music, and as a "sponsor"  Red Roses, Green Gold, would offer to give away a voucher to see the play- contest winners pick for which show!
Today's podcast post on Facebook and Instagram I am going to run a contest!  Come over to Strangers Stopping Strangers on Instagram and /or Facebook- like or follow- and post an emoji story in the comment box. There are no RULES and I'm not even sure what the winner will be based exactly on- but as it goes TOO MUCH OF EVERYTHING IS JUST ENOUGH
Many thank you's to Red Roses, Green Gold for sharing a few of the stories behind the show- and for the tickets- because really, it all comes back to music and TICKETS!!!
To see/hear much more about Red Roses, Green Gold check it out at http://www.redrosesgreengold.com
As always- thank you for stopping by & enjoy!
Featured Music~
The Grateful Dead- Sugar Magnolia, L'Olympia, Paris France, May 4, 1972
The Grateful Dead-The Wheel, Nassau Coliseum , Uniondale NY, March 29, 1990
The Grateful Dead- Brokedown Palace- Shoreline Amphitheater, Mountain View CA, October 1987
Podcast #53- Conversation With Red Roses, Green Gold
Podcast: Play in new window | Download (Duration: 58:42 — 67.2MB) | Embed