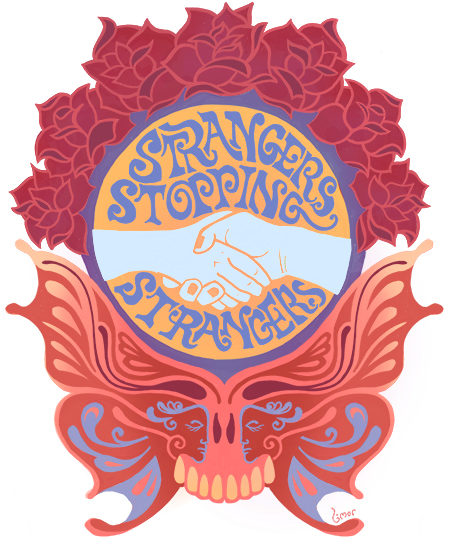 —Inspiration move us brightly…
Deadheads are a community that transcends all walks of life; where we live, what we do, and what kind of jobs we have. There is a link to one another through the music, lyrics and experiences that is special.
"Strangers Stopping Strangers… just to shake their hands" is a podcast adventure within the community to discuss the music, how it shaped us in the past and today, with connections to songs, shows, and people.
Everyone has their story that makes up their soundtrack. Looking forward to sharing experiences with friends, family, and—of course—all the former strangers I meet along the way.
Please check it out, and enjoy this journey with me…..
—Such a long long time to be gone, and a short time to be there…
Podcast #47- Conversation with Chad Wells
This week's podcast I get a chance to talk to Chad Wells- a "friend' for about a year we finally got a chance to talk about our mutual love for The Dead- the community & music!
Chad and I met via Facebook when I weighed in on a comment & suggested he check out the podcast- he responded that he was already listening! Thinking back a year- this may have been the first time I solicited a listener and they were already familiar- so a bit of a mile stone that was very meaningful.
Chad is the man behind This Day In Grateful Dead History- and incredibly informative & fun blog- pictures that I enjoy following on all social media- especially Facebook where he gets to share the whole scoop on his page-
Dead to the Core- Chad shares with us his deep dive down his rabbit hole on the day Jerry Garcia passed 22 years ago- the rest as they say is history. Picking out some "favorite" songs from "favorite shows" was not an easy task for Chad- because picking a "favorite" is a near impossible task for someone with so much love and dedication for the music…….that said he was able to pull out some fantastic gems- and share with us his feelings behind these specific choices & why they are special to him.
As always- thank you for stopping by & enjoy!
Featured Music~
The Grateful Dead- St. Stephen – Mason/s Children- Fox Theater, St. Louis. MO, February 2, 1970
Grateful Dead- Rosalie Fall-Radio City Hall, NYC, NY, October 27, 1980
Grateful Dead- Darkstar-Morning Dew- Winterland Arena, San Francisco CA, February 24, 1974
Grateful Dead-Two Souls In Communion, Lyceum, London England, May 26, 1972
Podcast #47- Conversation with Chad Wells
Podcast: Play in new window | Download (Duration: 1:19:54 — 91.4MB) | Embed
Subscribe: iTunes | Android | RSS
Podcast (companion): Play in new window | Download (Duration: 1:04:03 — 73.3MB) | Embed