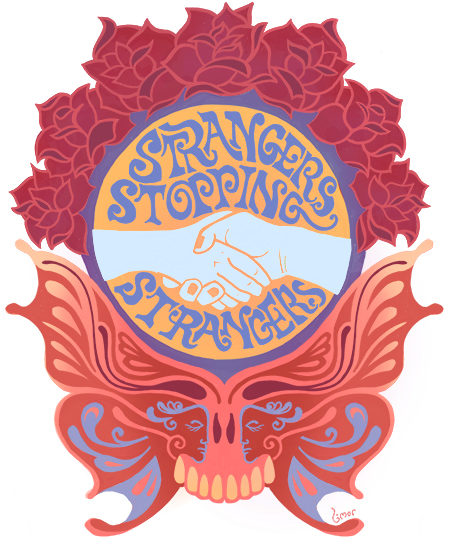 —Inspiration move us brightly…
Deadheads are a community that transcends all walks of life; where we live, what we do, and what kind of jobs we have. There is a link to one another through the music, lyrics and experiences that is special.
"Strangers Stopping Strangers… just to shake their hands" is a podcast adventure within the community to discuss the music, how it shaped us in the past and today, with connections to songs, shows, and people.
Everyone has their story that makes up their soundtrack. Looking forward to sharing experiences with friends, family, and—of course—all the former strangers I meet along the way.
Please check it out, and enjoy this journey with me…..
—Such a long long time to be gone, and a short time to be there…
Podcast #51- Conversation with McQuaid Family
This podcast is the first with not just one guest- but an ( almost) entire family's worth of stories & music! Four out of the five in the Mcquaid family came together on a Sunday morning to share a few of their adventures- stories and music picks.
I met the McQuaid family- David- Kelly- Avery- Dylan and Cassidy at the Dead and Company show June 22, 2017 in Saratoga Springs New York. While camping in a nearby spot I saw a BEATUTIFUL pained bus- and went to further investigate . I was greeting by David and Kelly with a giant heap of Southern Hospitality! They welcomed me in for a tour of Sugaree- and to meet the family Avery, Dylan & Cassidy.
Sugaree was gorgeous- and everything you could dream of for a painted touring bus- and the family within it – were as kind as they get. Needless to say- I told them they would make an awesome podcast & left a magnet to stay in touch!
Their podcast tells the stories about the 2017 Dead and Company tour- Kelly and David jumping on "the bus" in 1995- the family trip to Chicago to see Fare Thee Well in 2015 (when the kids joined their parents down the Deadhead rabbit hole) their daughter Cassidy's naming…..and more.
The McQuaids are an exceptionally special family- I'm grateful to have met- have an opportunity to share their stories &  music picks – and now are a part of my Deadhead family.
As always- thank you for stopping by & enjoy!
Featured Music~
Dead & Company- Looks Likes Rain, SPAC , Saratoga Springs NY June 21, 2017
Grateful Dead- Brokedown Palace- Boston Music Hall, Boston MA , December 1, 1973
Fare Thee Well- Attics Of My Life- Soldiers Field, Chicago IL,  July 5, 2015
Dead and Company- Ripple – Fenway Park, Boston MA, June 18, 2017
Grateful Dead- Cassidy – Without A Net
Podcast #51- Conversation with McQuaid Family
Podcast: Play in new window | Download (Duration: 1:05:00 — 74.4MB) | Embed
Subscribe: iTunes | Android | RSS
Podcast (companion): Play in new window | Download (Duration: 34:11 — 39.1MB) | Embed