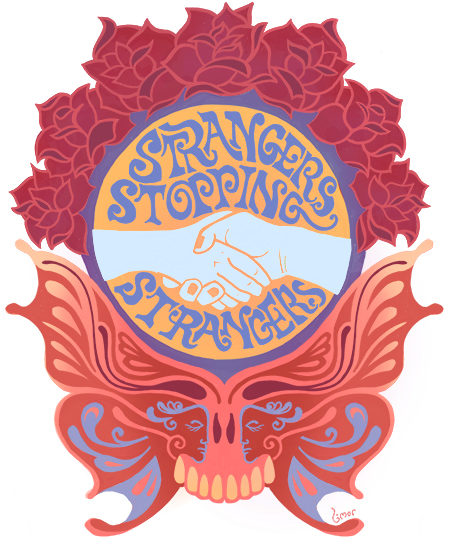 —Inspiration move us brightly…
Deadheads are a community that transcends all walks of life; where we live, what we do, and what kind of jobs we have. There is a link to one another through the music, lyrics and experiences that is special.
"Strangers Stopping Strangers… just to shake their hands" is a podcast adventure within the community to discuss the music, how it shaped us in the past and today, with connections to songs, shows, and people.
Everyone has their story that makes up their soundtrack. Looking forward to sharing experiences with friends, family, and—of course—all the former strangers I meet along the way.
Please check it out, and enjoy this journey with me…..
—Such a long long time to be gone, and a short time to be there…
Podcast #49- Conversation with Rob Levitsky
This weeks podcast is an in person conversation this past August at Rob Levitsky's home in Palo Alto CA. Rob Levitsky's name may not be familiar with all- or even very many tuning in- but if you went to the Dead shows in the Northern California from 1987- 1995 you are very familiar with him -he is the man beneath the Dead-y Bear outfit who was at EVERY Grateful Dead show I went to.
If you are reading this & or listening and do remember the Dancing Bear that walked amongst the deadheads- did you ever wonder who it was? What he / or she was experiencing? What is the genesis of this iconic piece of Northern California Grateful Dead lore?  Those question are answered are in our conversation.
It was only after attending Dead and Company in Worcester November 2015- my first East Coast " Dead Show" experience. The show was amazing ! I was thrilled when I was able to attend the Dead and Company show the following month in my hometown of San Francisco at the Civic Center with my friends and family. Rob was one of the first people I saw when we walked in- I was so excited- we said hello- took a couple pictures- and in that moment I realized that Rob is a Northern California phenom- and that he was missing the past month in Worcester MA. There  was a flood of memories and nostoligia-. I think Rob was at EVERY SINGLE Grateful Dead show I was at from 1988-1995- that we was synonomous with the magic of a dead show!
Strangers Stopping Strangers is a podcast from a deadhead- made with deadheads- for deadheads. When I though about theoretical people I would love to meet, Rob was on the top of my list. Rob- to me- personifies being a deadhead.
After sitting down and speaking I think that his stories ARE the shows….in their entirety.
Rob shares his memories as they relate back to the music playing, the venue he was at, and the deadheads that surrounded him– wondering & spinning &contributing to the total experience & magic of the whole experience!.
We can go back to the late 80's and into the 90's and enjoys some fantastic music- from memorable shows- seeing and hear from the perceptive of the mysterious Dead-y Bear that always made everyone Smile- Smile-Smile…..
As always- thank you for stopping by & enjoy!
Featured Music~
The Grateful Dead – Terrapin, Greek Theater, University of California Berkley, Berkley CA, August 18, 1989
The Grateful Dead-I Will Take You Home- Frost Amphitheater, Stanford University, Palo Alto CA, May 6, 1989
The Grateful Dead-Uncle Johns Band, Oakland Coliseum, Oakland CA, December 18, 1993
The Grateful Dead-Stella Blue, Oakland Coliseum, Oakland CA, December 18, 1993
The Grateful Dead-Iko Iko, Henry J. Kaiser Convention Center, Oakland CA, March 3, 1987
Podcast #49- Conversation with Rob Levitsky
Podcast: Play in new window | Download (Duration: 1:05:30 — 75.0MB) | Embed
Subscribe: iTunes | Android | RSS
Podcast (companion): Play in new window | Download (Duration: 49:59 — 57.2MB) | Embed