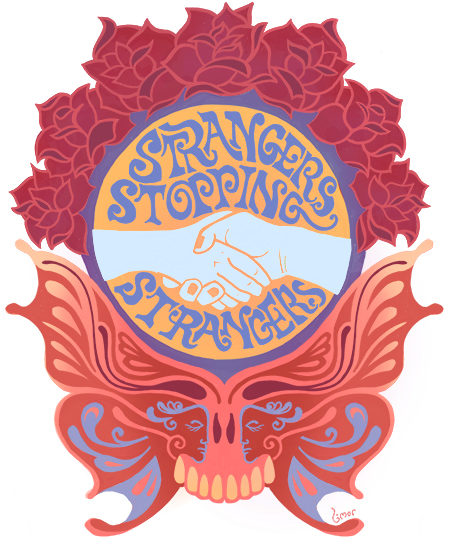 —Inspiration move us brightly…
Deadheads are a community that transcends all walks of life; where we live, what we do, and what kind of jobs we have. There is a link to one another through the music, lyrics and experiences that is special.
"Strangers Stopping Strangers… just to shake their hands" is a podcast adventure within the community to discuss the music, how it shaped us in the past and today, with connections to songs, shows, and people.
Everyone has their story that makes up their soundtrack. Looking forward to sharing experiences with friends, family, and—of course—all the former strangers I meet along the way.
Please check it out, and enjoy this journey with me…..
—Such a long long time to be gone, and a short time to be there…
Podcast #60- Conversation With Rob Turner Part 2
Rob and I return with the second part of our conversation & Rob's song selection.
We welcome back after listening to the tail end of Jack Straw from playing on October 20, 1983- and move down the line for more tours and shows. Rob sent me lists of 8 shows- and 2 special bonus stories- one with vey elusive music to find – many thanks to David Gans & Tales from the Golden Road to share!
We paired it into 2 shows, 4/7/87 and 7/17/89  and 2 additional stories and music where Rob brings us a little closer to Bob Weir. 3 hours of chatting in MA afternoon before a pending snow storm we- could not have been in a more cozy and warm atmosphere for sharing stories and talking music on his friends Doug & Ann Cahill's couch- many- many THANK YOU's to Doug and Ann!
While this conversation took place in mid January, because it's in 2 parts the intro and today's blog is being made on February 9. Thursday February 8 we lost John Perry Barlow- we are all taking time for gratitude & reflection for all the music- stories – and magic he brought into our world. I read a tribute written by Sean Ono Lennon that was published in the San Francisco Chronical  February 8, 2018-  it was amazing- to share a portion of his piece ;
"He was a wordsmith and a songsmith, a tech wizard party maniac car mechanic and bona fide lady magnet of incomparable intellect. He was am angel and a double agent, a prophet and pioneer of digital divination, a Master Mason, a Burning Man patron, an internet architect, and political maven, a psychedelic shaman, a counter culture statesman and a hero to great men"
"Fare the well, let your life proceed by its own design- nothing to tell, let the words be yours, I am done with mine"-  Cassidy- JPB
As always- thank you for stopping by & enjoy!
Featured Music~
Grateful Dead- Big River, Meadowlands  -East Rutherford NJ, July 7, 1987
Grateful Dead -The Music Never Stopped- Alpine Valley Theater , East Troy WI July 17, 1989
Bob Weir & Rob Wasserman – Tennessee Waltz, 1993 Clinton Inauguration,  Reunion Hall, Washington DC,  January 15, 1993
Ratdog- Throwing Stones- Hampton Beach Casino, Hampton NH, August 9, 1995
*** photo credit and thank you to Jay Blakesberg for beautiful image of JPB and Bob Weir!
Podcast #60- Conversation With Rob Turner Part 2
Podcast: Play in new window | Download (Duration: 1:18:09 — 89.4MB) | Embed