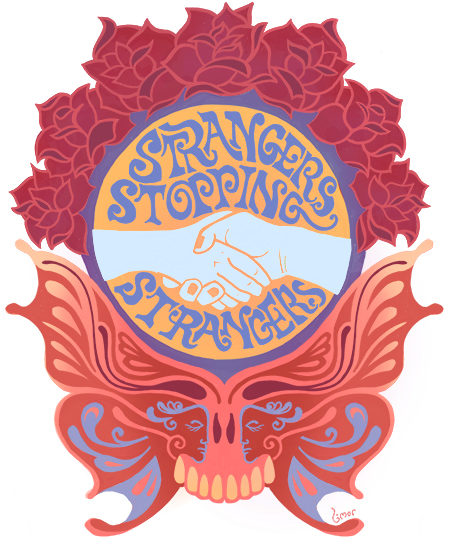 —Inspiration move us brightly…
Deadheads are a community that transcends all walks of life; where we live, what we do, and what kind of jobs we have. There is a link to one another through the music, lyrics and experiences that is special.
"Strangers Stopping Strangers… just to shake their hands" is a podcast adventure within the community to discuss the music, how it shaped us in the past and today, with connections to songs, shows, and people.
Everyone has their story that makes up their soundtrack. Looking forward to sharing experiences with friends, family, and—of course—all the former strangers I meet along the way.
Please check it out, and enjoy this journey with me…..
—Such a long long time to be gone, and a short time to be there…
Podcast #63- Conversation With Richard Hill- UK Calling
This week I got the honor of talking with Richard Hill- a Deadhead and musician from England!! Richard and I met through social media – my self with podcast and Richard via the band that he is in The Grateful Dudes.
Richard has such an interesting perspective and stories as a London deadhead who discovered the music in the late 80's – as both a musician & enthusiast! Getting the tapes- and finding other members of the Deadhead tribe was not as easy over the pond, but the English Deadheads an extension of the family- as dead-icated as any, with more patience – going spans of time between tours.
The family reunion that was the 1990 tour was an experience that Richard was a part of, and will never forget! When the band (along withall its glorious people- colors- smells etc.) came into town – everyone was READY- especially Richard! In 1990 to be listening to tapes of the band in the parking lot before, was not part of the "show" with the other band that came to Wembley.  So much fun to hear all about them in the stories that Richard tells and the music he selected.
Grateful Dead- Halloween – Warewolves of London – in LONDON- that's quite a FUCK YEAH moment!!
All the while being a huge deadhead/ fan- Richard has been playing music. He joined a tribute band in the late 80's called The Cosmic Charlies- and is playing in a band The Grateful Dudes- with some fantastic shows- stories and recordings. The forth song we play is Feels Like A Stranger from a gig at The Brooklyn Bowl, London on August 6, 2016. For all the info on the Grateful Dudes their site is https://thegratefuldudes.bandcamp.com   and can be found on FB- Twitter-
So much fun to meet and talk to Richard- hopefully one day we will be able to meet in person- Weir are Everywhere!!!
Photo Credit by Antonio Reonegro. To  see more of his fantastic art check out at www.reonegro.com
As always- thank you for stopping by & enjoy!
Featured Music~
Grateful Dead -Lazy Lightning/Supplication, Boston Music Hall, Boston MA,  June 12, 1976
Grateful Dead- Jack Straw, Wembley Arena, London England, November 1, 1990
Grateful Dead – Cassidy, Wembley Arena, London, England, October 30, 1990
The Grateful Dudes- Feels Like A Stranger, Brooklyn Bowl, London England, August 6, 2016
Podcast 63- Conversation Wth Richard Hill- UK Calling
Podcast: Play in new window | Download (Duration: 1:13:27 — 84.1MB) | Embed